Endowment Plan is always Ever-green and has always been the TOP SELLING PLAN of LIC since the day LIC was formed on 1.9.1956. It has got the Greatest Universal Appeal with Clients age group ranging from 8 to 55 years. The product is Very Transparent, Cost-effective and offer Spectacular Returns in the form of High Bonus and Higher FAB for Several Years. Our Endowment Plan is a Time-tested Product which has withstood Several Financial recessions in India as well as in the World.
From a layman's perspective LIC's New Endowment Plan (Table No: 914), is an essential life insurance plan which gives sufficient protection, amid the policy term, to cope up with the untimely death of the bread winner. Where as if the policy matures this arrangement gives a sound lump sum, which can be utilized to satisfy monetary prerequisites like kids' advanced education, marriage, generation of pension corpus and more.
In its core, this plan incorporates the principles of financial planning by encapsulating the complexities. Moreover this policy is targeted for a more wider age group and their multi various needs in mind. You can buy this policy here.
Technical Details of New Endowment Plan
Criteria
Requirement
Age
Minimum : 8 years
Maximum : 55 years
Premium Paying Mode
Yearly

Monthly (NACH Only)

Policy Term
Minimum : 12 years
Maximum : 35 years

Premium Paying Term

(PPT)
Same as policy term
Basic Sum Assured
1,00,000 and above (additional sum assured in multiples of 5000 only)
Policy Revival
within 2 year from the last unpaid premium date.
Rebate on Premium Mode
2% for Yearly

1% for Half Yearly

Nil for Quarterly & Monthly

Higher Sum Assured (SA) Rebate
0% for 0 to 1,95,000 of SA
2% for 2,00,000 to 4,95,000 of SA
3% for > 5,00,000 SA

Loan

facility
After 3 years of full premium payment

Surrender

possibility
Minimum 3 full years of premium payment
Benefits of New Endowment Plan
Death Benefit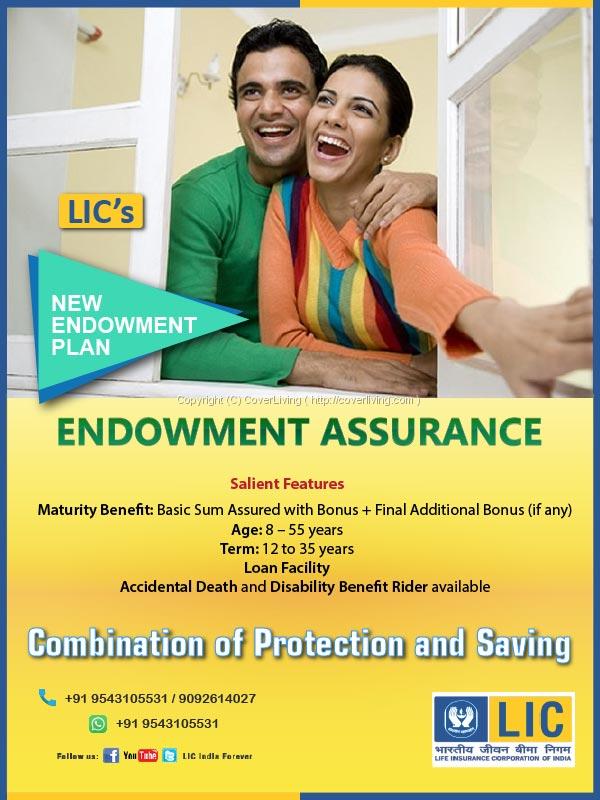 If there should be an occurrence of death amid the plan term, given all due premiums have been paid, Sum Assured, characterized as aggregate of "Sum Assured on Death" and vested Simple Reversionary Bonuses and Final Additional bonus (FAB), assuming any, will be payable. Where, "Sum Assured on Death" is characterized as higher of Basic Sum Assured or 10 times of annualized premium. This demise advantage will not be below 105% of all the premiums paid as on date of death.
The premium is defined as the net amount payable by the customer, deducting  administration charge, additional premium and rider premiums, applicable any.
LIC's Accidental Death and Disability Benefit (AD&DB) Rider
AD&DB Rider is accessible as a discretionary rider by paying an extra premium.
In the event of unintentional (accidental) demise, the Accident Benefit Sum Assured will be payable as lump sum alongside the death benefits stated under the basic arrangement.
In the event of accidental permanent disability emerging because of a mishap, but the policy holder survives, a sum equivalent to the Accident Benefit Sum Assured will be paid as regular scheduled monthly payments spread more than 10 years (meaning 10 years * 12 months = 120 installments) and future premiums for Accident Benefit Sum Assured & premiums for Basic Sum Assured part under the policy agreement, will no longer be payable by the policy holder. Certificates related to the disability has to be submitted to the corporation within 180 days from the date of accident.
Maturity Benefit
Basic Sum Assured, alongside vested basic reversionary bonus and Final Additional bonus, assuming any, will be payable in single amount on Survival as far as possible, provided all due premiums have been paid.
Cooperation in Profits
The plan will take part in benefits of the Corporation and will be qualified for to get Simple Reversionary Bonuses proclaimed according to the experience of the Corporation, assuming the policy is in full power. FAB may likewise be announced in the year, when the policy results into a case either by death or by maturity, provided the plan was in force for certain base term.
Financial Planning using LIC's New Endowment Plan
There are 4 Corner Blocks of Financial Planning. They are life insurance, income protection, education planning and retirement planning. Life Insurance Corporation of India's New Endowment Plan in effect never leaves any of these four stones unturned. In our case studies we are taking the basic protection opted by the policy holder as Rs.10 lakhs. Anyways customer is free to choose any sum assured starting from Rs. 1 lakh to Crores, depending upon the socio economic status and premium paying capacity.
Return on Investment (ROI ) of LIC's
New Endowment Plan
In order to calculate the ROI for this plan, we need to extend our case study 4 above.
Case Study 5 : ROI(Case Study 4 extended)
(B) Tax Saved Under 80(C)
@10%/annum on total premium paid
92,678
(C) Approximate Tax Saved Under 10(10(D))
@20% on total maturity return
9,96,000
Total approximate return (A+B+C)
considering the tax saving part

49,80,000 + 92,678 + 9,96,000 = 60,68,678 (rupees sixty lakhs sixty eight thousand six hundred and seventy eight only)

Return on Investment (ROI) considering the tax savings
554.81%
Why should we buy New Endowment Plan
To sum up, LIC's New Endowment Plan is highly recommended because of the following reasons
A sound mix of Life protection and Savings.
Low premium and Further reduction in premiums in the form of Mode rebates and Higher Sum Assured Rebates.
Qualified for Bonuses (Reversionary Bonus and Final Additional Bonus) pronounced by LIC.
Higher declared Bonus rates, meaning greater returns.
Minimum 2 times Sum Assured, for accidental deaths through  AB&DB rider.
Premium paid is non taxable under 80(C).
10 (10(D)) Tax exemption for Maturity Benefits (Normal Death or Accidental Death)
Wide spectrum of term to choose from ( Short Term 12 years to Long Term 35 years)
Suitable as a Child plan or Retirement Corpus Generator plan.
This policy additionally deals with liquidity needs through its loan facility and surrender options. Subsequently, this is an exceedingly prescribed plan among every other one.
For further discussions about the tax freeness of LIC endowment based products and its significance, kindly read this article.